Published time: April 22, 2015 14:04
Misfits, the vulnerable and the mentally ill are top recruiting targets for the Islamic State as it tries to build a deadly cult using its hyped social media savvy, according to a senior UK policeman.
Speaking at a counter-terrorism equipment and networking exposition in London, Scotland Yard's Assistant Commissioner Mark Rowley said the threat from Islamic State-inspired extremists was new and radical due to its fragmented nature.
He said the group had "
a cult following that has a wicked motive
" and that the Islamic State (IS, formerly ISIS) "
isn't looking to organize itself in tight secret cells in the way that previous terrorist groups have done.
"
"It's actually looking to inspire people to support their cause and to act in their name.
"
They're developing that with a very, very determined approach to exploiting social media and propaganda and the like.
"
The real aim being to kill and get footage of that to propagate the message and propagate themselves to their cause,
" he added.
Such concerns are not limited to Britain.
Last month one of America's top spies shared his fears about the capacity of social media to
"greatly amplify"
the IS's campaign of terrorism.
Speaking at the Council on Foreign Relations, CIA Director John Brennan said the IS has been so successful at staying intact and afloat largely because it has embraced new tools, such as social media, which enable it to achieve a transnational diffusion of ideas in real time over the web.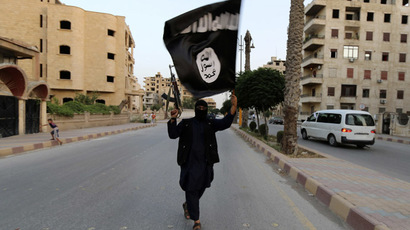 "
What makes terrorism so difficult to fight is not just the ideology that fuels it, or the tactics that enable it. The power of modern communications also plays a role,
" Brennan said.
"
New technologies can help groups like ISIL coordinate operations, attract new recruits, disseminate propaganda and inspire sympathizers across the globe to act in their name.
"
Brennan described the group as both well-armed and well-financed in his prepared remarks and said that, if unchecked, it would "
pose a serious danger not only to Syria and Iraq, but to the wider region and beyond, including the threat of attacks in the homelands of the United States and our partners.
"
Read more:
CIA director blames social media for strength of ISIS
British teen arrested in connection with Anzac terror plot