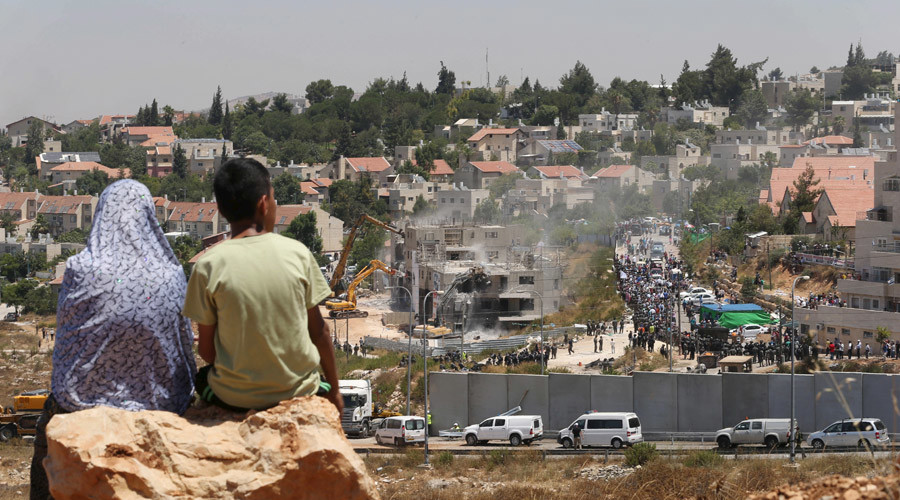 A suspected "price tag" arson attack by Jewish extremists killed an 18-month-old Palestinian child in a house in the occupied West Bank and injured several other people, according to Israeli police.
The toddler died in a house fire which broke out in a village of Kafr Duma near the West Bank city of Nablus, Reuters reports.
The infamous "Price Tag" slogan, typically used by radical Jewish settlers attacking Palestinians houses, as well as other sites like Christian churches, mosques and government buildings, was daubed on the walls of the home, according to police spokeswoman Luba Samri cited by Reuters.
She called it a
"suspected attack with nationalist motives,"
adding that Israeli security forces were at the scene.
At least three people were taken to hospitals in the aftermath of the attack. The house was reportedly destroyed by fire at the time the family was sleeping inside. The blaze also damaged another house, which was luckily empty at the time.
The death of a child will inevitably aggravate Israeli-Palestinian tensions at the time when the government of Prime Minister Benjamin Netanyahu pursues the controversial settlement expansion policy in the occupied territories.
READ MORE: Israel approves building of 300 new 'illegitimate' West Bank homes amid demolition protests
Just this Wednesday, Netanyahu approved the construction of 300 new homes in the central West Bank Jewish settlement of Beit El despite international condemnation. US State Department responded by a statement criticizing the "illegitimate" construction.
However, Israeli authorities have, at the same time, disgruntled some of the Jewish settlers in Beit El, as the Supreme Court has ordered that two blocks of houses illegally built on the Palestinian-owned land in the same area be torn down. The demolition sparked fierce resistance, with settlers protesting and clashing with police on Tuesday.
http://www.rt.com/news/311216-palestinian-toddler-killed-jewish-attack/