INDEPENDENT
In fear of what they call a 'Muslim uprising', a group of men have started to intensify their target practice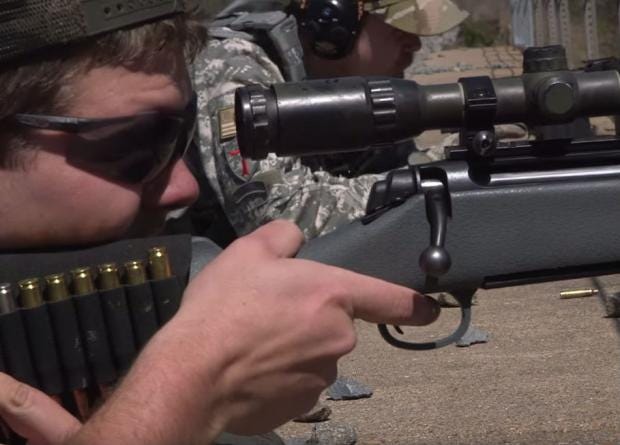 A group of white men in Texas are training to shoot Muslims in case of an "uprising" and are dipping their bullets in pig's blood or bacon grease so victims would "go straight to hell".
"The next step in Jihad does not involve random, sporadic attacks. They started killing people. They started slaughtering people wholesale," said so-called Bureau of American Islamic Relations (
BAIR
) spokesperson David Wright.
"Do you really expect me to stand here and wait until we get to that point? I'm not going to wait until we get to that point. I'm going to start doing something about it now."
The group fears that thousands of Muslim refugees would lead to an "uprising".
BAIR is based in Irving, the same town where "clock boy" Ahmed Mohammed was arrested after bringing to school a home-made clock which the teacher thought was a bomb.
In a video from AJ+ news, BAIR members of the group stand over railway tracks and do target practice with an array of weapons.
"A lot of us here are using either pig's blood or bacon grease on our bullets, packing it in the middle, so that when you shoot a Muslim, they go straight to hell. That's what they believe in their religion," said Mr Wright.
BAIR members have recently
staged armed protests
outside mosques to "stop the Islamization of America".
Recent fear and distrust has long existed in the US but has been exacerbated due to racist rhetoric during the 2016 US election campaign, including Donald Trump calling for a ban on Muslims.
Mr Wright named one "radical" as Mohamed Elibiary, a former top aide to President Obama and a member of the Department of Homeland Security advisor, who was accused of leaking secret documents in an attempt to smear then-presidential candidate and Texas governor Rick Perry as Islamophobic.
The claims were unfounded, said the DHS, yet Texas politician Louie Gohmert then accused him of having ties to the Muslim Brotherhood.
The mayor of Irving,
Beth Van Duyne
, also led the city council to support a state bill aimed at blocking Muslim influence in the US courts.
To counter BAIR, people of all religions and background have staged anti-BAIR protests and have created their own
anti-BAIR
Read more:
http://www.independent.co.uk/news/world/americas/texas-men-train-to-shoot-muslims-and-dip-bullets-in-pig-blood-so-victims-go-straight-to-hell-a7053086.html