June 15, 2014 -- Updated 1843 GMT (0243 HKT)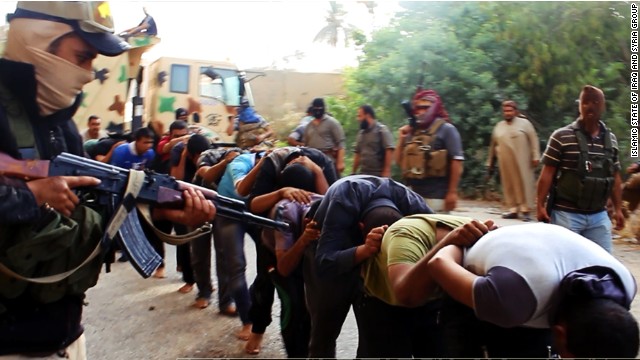 ISIS photos seem to show mass execution
STORY HIGHLIGHTS
NEW: Kirkuk governor says blanket bombing won't work
Photos appearing online appear to show ISIS fighters executing Iraqi security forces
ISIS wants to establish an Islamic state from Iraq into northern Syria
Gunmen believed to be ISIS troops fight security forces near Baquba
(CNN)
-- The militant group that has been ruthlessly fighting to take control of Iraq has apparently posted chilling photos on jihadi Internet forums seeming to show the executions of Iraqi security forces.
CNN cannot independently confirm the authenticity of the images purportedly posted by
ISIS
, or the Islamic State in Iraq and Syria. CNN is examining the terrain in the images, some of the signage on buildings in several of the pictures and the uniforms of the apparent victims. Those details suggest the photos are real and were taken in Iraq.
A caption on some of the images: "apostates heading to their hole of doom."
ISIS, an al Qaeda splinter group, wants to establish a caliphate, or Islamic state, in the region that would stretch from Iraq into northern Syria. The group has had substantial success in Syria battling Syrian President Bashar al-Assad's security forces.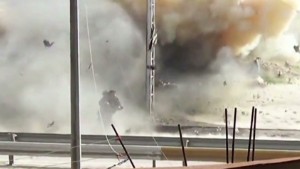 Hollywood-type videos show ISIS killings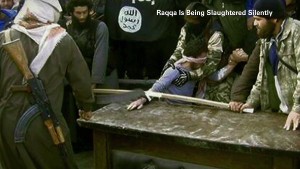 Meet the terrorists who scare al Qaeda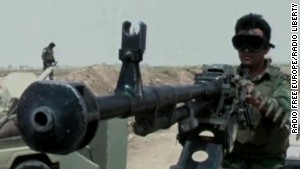 Iraqi commander: 'There will be blood'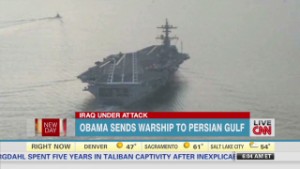 Obama sends warship to Persian Gulf
ISIS's quick advance in Iraq has been helped by many Sunnis who feel that the Shiite-dominated government has marginalized them.
On Sunday, the militant group continued its assault. Iraqi security forces and gunmen believed to be ISIS clashed near al-Khalis, which is about 18 miles from Baquba, police officials in that Iraqi city told CNN.
Baquba is about 37 miles northeast of Baghdad, the capital. ISIS seized Iraq's second-largest city, Mosul, last week and have threatened to march on Baghdad.
Also Sunday, two villages in the Adhaim area, about 62 miles north of Baquba, were taken over by gunmen believed to be ISIS, officials said.
Separately, three mortar rounds landed in al-Khalis, near a recruitment center opened recently for volunteers to join the Iraqi army in their fight against ISIS. Officials could not provide more details.
Violence perpetrated by ISIS shook a small town near Mosul again Sunday, security officials in Baghdad and the town of Tal Afar told CNN. Several mortar rounds landed on a busy area in the town west of Mosul and killed at least seven and wounded 33 people.
Ethnic Shiite Turkmen live in Tal Afar. Iraqi security forces still maintain a presence there.
Iraq's leader urges troops to stand ground
Iraqi Prime Minister Nuri al-Maliki ordered Saturday that Iraqi troops stand up to the militants -- an order that came after, and in light of, Iraqi security forces completely collapsing when militants assaulted Mosul.
"Samarra will be the starting point, the gathering station of our troops to cleanse every inch that was desecrated by footsteps of those traitors," al-Maliki said in broadcast remarks.
"They (ISIS) believed that this is the beginning of the end, but we say, this is the beginning of their end, their defeat, because it sparked the passion and determination in all soldiers and officers, and in all Iraqi people," the prime minister said.
Meanwhile on Sunday CNN Senior International Correspondent Arwa Damon was in the Iraqi Kurdish province of Kirkuk, where last Thursday militants took control of two villages.
She asked the local governor, Dr. Najmaldin Karim, whether the United States should launch airstrikes to help fight back ISIS.
"I think they know how to do it, but blanket bombing is not going to work here," Karim said, explaining that that approach ignores the fact that ISIS is too blended into the civilian population in Kirkuk and innocent people could die. But there should be targeted bombing in both Iraq and Syria, he said.
"I don't think anyone is safe from these people," said Karim.
Options for the U.S.
The U.S. invaded Iraq in 2003. American military forces ended their withdrawal from the country in December 2011.
This week, President Barack Obama continued to consider options with regard to the situation in Iraq but ruled out sending troops into the country.
While that continues, Iran has recently entered the fray, according to a senior security official in Baghdad who spoke to CNN on Friday. That official said that in recent days, Iran has sent about 500 Iranian Revolutionary Guard troops to fight alongside Iraqi government security forces in Iraq's Diyala province.
However, Iranian officials, including President Hassan Rouhani, denied reports that some of its elite forces are in Iraq to help bolster al-Maliki, a fellow Shiite.
"If the Iraqi government wants us to help, we will consider it," Rouhani said, according to an English translation of his remarks Saturday in Farsi by state-run Press TV.
But, he said, "so far they have not asked specifically for help," and added that Iran could give strategic guidance if requested.
On Sunday U.S. Sen. Lindsey Graham argued on CNN's "State of the Union" for more intervention in Iraq.
The South Carolina Republican, a frequent critic of the Obama administration's approach to foreign policy, called Obama "stubborn-headed," "delusional" and "detached" over his decision on how to react to the unfolding crisis.
"Time is running out to turn this around," Graham said. "Get involved with air power. Stop the march toward Baghdad. Deal with Syria. But get a new government [in Iraq] in place as quickly as you can that will bring the Iraqis back together for a counteroffensive."
CNN's Arwa Damon reported from Kirkuk and Ashley Fantz wrote this story in Atlanta. Mohammed Tawfeeq, Yousif Basil, Chelsea Carter and Jennifer Deaton contributed to this report in Atlanta. Laura Smith-Spark contributed to this report from London.