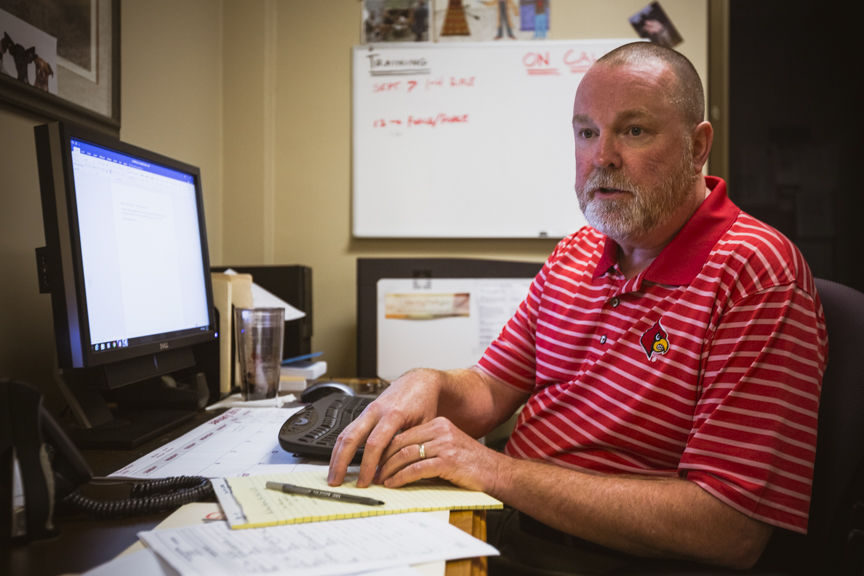 Capt. Jim Haehl has witnessed much in his 23 years at the Clark County Sheriff's Office. But he wasn't expecting to see a change like this.
When he started at the department, one, maybe two cases of child molestation were reported annually.
So far in 2016, Haehl has investigated 14 separate incidents of the crime, up from seven cases the previous year. Most were reported at the beginning of the school year, when kids trust friends with stories and secrets.
All happened in the unincorporated portions of the county, the country towns, if you will. The communities where neighbors know neighbors, and parents feel safe raising their families. Places where things like this aren't supposed to occur.
"It's doubled since last year and we still have the rest of the year to go," said Haehl, who toured Indiana for 19 years as one of three state instructors that taught about childhood violence and sexual assault. As the detective that investigates crimes against persons, all sexual assault cases are assigned to him.
A little less than half of the 2016 cases are older children and teens that have reported past incidents of childhood sexual abuse, in line with the more traditional definition of child molestation. The CDC reports 34 percent of incidents like these involve a family member as the perpetrator, while 60 percent are perpetuated by acquaintances of the child — such as coaches, neighbors and family friends. Only 6 percent of victims don't know the assailant.
Stranger danger remains a kind of misnomer. Those welcomed into the lives of our children are by far the greatest threat to their safety.
But the majority of these recent incidents have been different from this.
In these, the underage victim contacts predominately older males and establishes a relationship, often times involving into something sexual. Social media and hook up apps like Tinder can aid the process.
We're talking about 11- and 12-year-old children here, those without the ability to give consent that can't fully grasp the repercussions of their actions. And older perpetrators who do know the difference between right and wrong still encourage the relationship anyway.
That's child molestation regardless of who initiated the liaison.
"It's bad enough when you have predators approaching the children," said Haehl.
"When you have children who are opening themselves up to predators, boy, now we have a whole new problem."
FACING THE HORRORS OF SOCIETY
For eight years, Detective Capt. Randy Burton sat across the table from monsters.
His goal as the officer in charge of investigating sex crimes was to elicit a confession from those accused. To do this, the father of three interviewed the accused with a sense of compassion and empathy. The moment they knew you were judging their actions, no matter how disgusting, the subject under investigation would shut down.
Engage them during the interview without animosity and a full admission will most likely result.
"Ultimately what we want is a confession. What we want is for him to go away and do his time. We want the little girl or the male to get the help they need to lead a quote unquote normal life after this," Burton said. "Although there's no normal life after molestation."
Due to the emotional toll of those whose job it is to investigate these crimes, the FBI recommends most officers work this beat only three to five years, with the general consensus being the shorter the better.
Law enforcement officials uncover the vilest of humanity. Children describe to them tastes and sights they should not know. One of the department's youngest sexting victims was only 9 years old.
It's hard to leave those memories behind at the office, especially when they have children of their own.
"Once you see it, you can't unsee it," Burton said. "It's in your brain forever."
In 2010, the 22-year veteran of the Clark County Sheriff's office requested a different assignment.
While he no longer works sex crimes cases, Burton still wants to end these disturbing acts. But the public must assist for real transformation to occur, and understand the factors leading to so many new cases. New technology remains the greatest threat.
"Now you can just go to your bedroom and meet the whole world. The whole world you can invite into your bedroom just by holding your phone in your hand," Burton said.
"You just have to teach your kids no," he said. "The thing is nobody is taught no anymore."
PARENTAL INVOLVEMENT REMAINS KEY
Technology abets perpetrators who seek relationships with children. Simple apps can give them the ability to contact with multiple kids, allowing photos and other materials to be shared without the child leaving the home.
Add to that oversexualization through television shows, popular music and other media desensitizes our youth, at times almost grooming them for sexual encounters at earlier ages.
"It's like that perfect storm," Haehl said. "And we're feeding that perfect storm".
Active parenting can make a difference, though.
Caregivers must stay involved in their children's lives, the officers warned. Know your kid's friends, as well as their parents and other family members. Find out about coaches and youth leaders who spend time with your sons and daughters. Volunteer at school.
In addition, give your child a sense of self-worth.
"You can be the prettiest. You can be the most popular, but without self-esteem you're going to be the biggest victim," Burton said.
Establishing a phone contract also helps guard against predators. Parents should have complete access including all passcodes to their children's phones. Friends should never use their mobile devices. And if an app seems suspect, delete the app or reset the phone to factory settings. Make sure you're the only person allowed to buy apps, and protect that password from your kids.
"It's identifying your kid's behavior, tracking your kid's behavior, and modifying your kid's behavior," Burton said. "You've got to protect your kids."
— Amanda Hillard Beam is a Floyd County resident and Jeffersonville native. Contact her by email at adbeam47@aol.com.