abcnews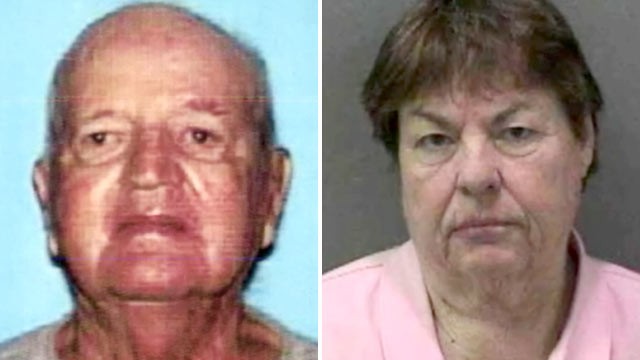 A California woman is charged with illegally assisting a healthy 86-year-old World War II veteran commit suicide by giving him yogurt mixed with a lethal dose of Oxycontin, according to investigators.
Jack Koency, of Laguna Niguel,Calif., was found dead in his bedroom last September. He was not terminally ill, bedridden, or immobile at the time of his death, according to Senior Deputy District Attorney Ebrahim Baytieh.
Police said the "scene was suspicious" and continued their investigation until they recently discovered a motion-activated camera in Koency's home which recorded Koency's friend Elizabeth Barrett allegedly mixing the lethal concoction.
Barrett, 66, of Laguna Woods, was arrested Wednesday and charged with one count of assisted suicide. She faces a maximum sentence of three years in prison if convicted.
"The thing that is different about this case is that most people, when they think about suicide, think of somebody who is terminally ill or who has zero or close to zero standard of living," Baytieh said. "Here we have a man who went to the funeral home, was able to sign paperwork, and went to the bank. He is not somebody who was continuously in pain."
On Sept. 30, Barrett allegedly drove Koency to the Neptune Society so he could make his own funeral arrangements, according to Baytieh. She then allegedly went to the store to buy yogurt, a bottle of brandy, and over-the-counter heartburn medicine. Heartburn medication is used to prevent acid reflux, which is common when a person takes a large dosage of medication or pills, according to a release by the police.
She is accused of then driving Koency to his apartment and giving him yogurt mixed with a lethal dose of Oxycontin. Koency then went into his bedroom, laid down, and died, the prosecutor said.
"It appears throughout our investigation that he wanted to die and she assisted him," Jim Amormino, spokesman for the Orange County Sheriff's Department, told ABC News. The motive for Barrett to help Koency is unknown at this time, said Amormino.
Barrett allegedly removed Koency's WW II medals from his wall and put them in her car before calling police. There is no evidence at this time that Barrett took any other possessions, Amormino said.
The pair met a few years ago and would occasionally meet with the same social group at a Starbucks, Amormino said. They had been out of contact for a few months before reconnecting a week prior to Koency's death. Koency has two daughters who he has been estranged from for awhile, Baytieh said.
Investigators discovered a motion-activated camera in Koency's home, according to Baytieh. Barrett was seen on the video crushing the medication, mixing it into the yogurt, and giving it to Koency, as well as removing the medals. There is no sign that Barrett forced the veteran to eat the yogurt, Amormino said.
Barrett initially told police that she had found Koency dead. "When the investigators were asking her questions, she initially lied," Baytieh told ABC News.
But Barrett, who says she's a social worker, changed her story after being told about the tape.
"She changed her story saying she did help him take medication," Baytieh said. "But she didn't admit to assisting with suicide."
Koency was in good health although he suffered from depression and post traumatic stress disorder "for decades," Baytieh said. He did not leave a suicide note and there were no signs that he and Barrett were romantically involved.
Neighbors were surprised by Koency's death.
"I was shocked because he looked healthy," Aine Fischer, Koency's neighbor, told ABC News affiliate KABC.