VOA NEWS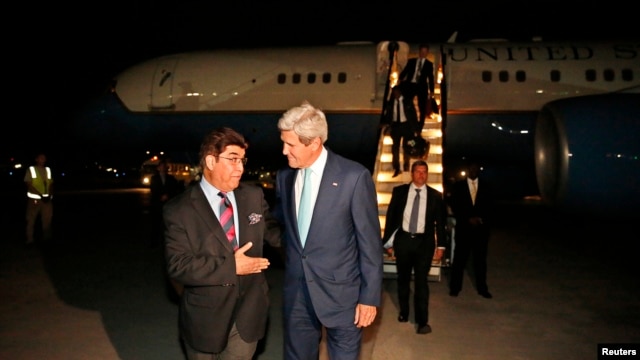 U.S. Secretary of State John Kerry talks with Afghanistan's Ministry of Foreign Affairs chief of protocol Ambassador Hamid Siddiq (L) as Kerry arrives at Kabul International airport in Kabul, July 11, 2014.
U.S. Secretary of State John Kerry has arrived in Afghanistan to help mediate an end to the political crisis between the two presidential candidates who are squabbling over the results of last month's runoff election.
Kerry said Friday shortly after arriving in Kabul overnight that Afghanistan is at a "very critical moment."
The top U.S. diplomat said the future potential of the transition "hangs in the balance, so we have a lot of work to do."
A State Department spokesman said Kerry will convey President Barack Obama's message that the U.S. expects a thorough review of all reasonable allegations of fraud and will not accept any extra-constitutional measures.
Kerry already has warned one of the candidates, Abdullah Abdullah, against using extra-legal means to grab power after his running mate talked about setting up a parallel government.
Abdullah and his rival Ashraf Ghani both claim victory in the June 14 runoff to replace outgoing President Hamid Karzai. Preliminary results show Abdullah trailing Ghani by about 1 million votes.
The United States says it does not take sides in the election, but does support a credible transparent process.
http://www.voanews.com/content/kerry-hopes-solution-can-be-found-afghan-vote-dispute/1955292.html