CNN
NEWS
Story highlights
Saudi Arabia proposes a five-day ceasefire
A Saudi official says a damaged helicopter made an emergency landing, but not because of hostile action
Houthi officials say their fighters took down a helicopter near the Saudi border
Sanaa, Yemen (CNN)Saudi Arabia proposed a five-day ceasefire Thursday in
Yemen
so that humanitarian aid can be distributed.
The nation of more than 27 million people, to Saudi Arabia's south, has been racked by war. A Saudi-led coalition has been conducting airstrikes to assist the ousted, but still internationally recognized, Yemeni government in its fight against Houthi rebels.
"There will be a ceasefire everywhere (in Yemen) or nowhere," Saudi Foreign Minister Adel al-Jubeir said Thursday, sending the message to rebel leaders that violence anywhere in the country could end a ceasefire.
Houthi leadership will meet and discuss the proposal, two senior Houthi officials told CNN.
At a news conference in Riyadh with al-Jubeir, U.S. Secretary of State John Kerry said that the United Sates welcomes the proposal and that work is being done to determine the details. Kerry said he believes more would be announced Friday, when he and al-Jubeir are expected to be in Paris.
Even if the Houthis accepted the deal, several days would need to pass before the ceasefire could start, because aid groups need time to prepare to take advantage of the opportunity.
Between March 26 and May 3, at least 646 civilians were killed and more than 1,300 were wounded, the
United Nations says
.
Kerry: No talk of ground troops
"Neither the United States nor
Saudi Arabia
are talking with each other or otherwise about sending ground troops into Yemen," Kerry told reporters.
He was responding to a question about a request from the Yemeni ambassador to the United Nations.
"We urge the international community to quickly intervene by land forces to save Yemen," Khaled Alyemany said in a letter to the United Nations Security Council on Wednesday.
The Yemeni government has accused rebels of "barbaric violations against a defenseless population."
Houthi militias are increasingly blamed for some attacks, including one this week where shells struck boats trying to flee the southern Yemeni city of Aden, killing more than 50 people, Alyemany said.
Human Rights Watch, meanwhile, has accused Saudi Arabia of
dropping U.S.-supplied cluster bombs
in the fight. They can lie dormant and detonate when people stumble upon one by chance.
An
international treaty
against cluster bombs has been adopted by 116 countries, but the United States, Saudi Arabia and Yemen are not among them.
Houthis claim they downed a helicopter
Two senior Houthi officials said their fighters took down an Apache attack helicopter in a northern Yemen area bordering Saudi Arabia on Thursday morning -- a claim that a Saudi official appeared to dispute.
The Houthi officials did not provide the origin of the helicopter, nor the identity and condition of its pilot. The incident allegedly occurred in Al Buoke, Saadah province.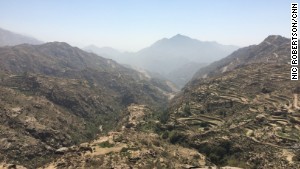 EXPAND GALLERY
When asked about the Houthi claim, a Saudi official said that a Saudi Apache helicopter did make an emergency landing on the Saudi side of the border Thursday but that "hostile action" had nothing to do with it.
The helicopter was slightly damaged, and both of the craft's pilots were safe, the Saudi official said, speaking on condition of anonymity. The official did not say how the helicopter was damaged.
Violence has raged for months, beginning before President Abdu Rabu Mansour Hadi was ousted by the Iran-backed Houthis.
Saudis say they want to restore what they call Yemen's legitimate government, led by Hadi.